Peter Holmgren, advisor to the forest industry who, among other things, has written a report on forestry's climate benefits, is now responding to the debate article from three members of Protect the forest that the focus of climate work should be supplemented with uptake into the atmosphere.
Published: July 22, 2022, 5:24 p.m
This is opinion poll material
The opinions expressed here are the responsibility of the writer (s).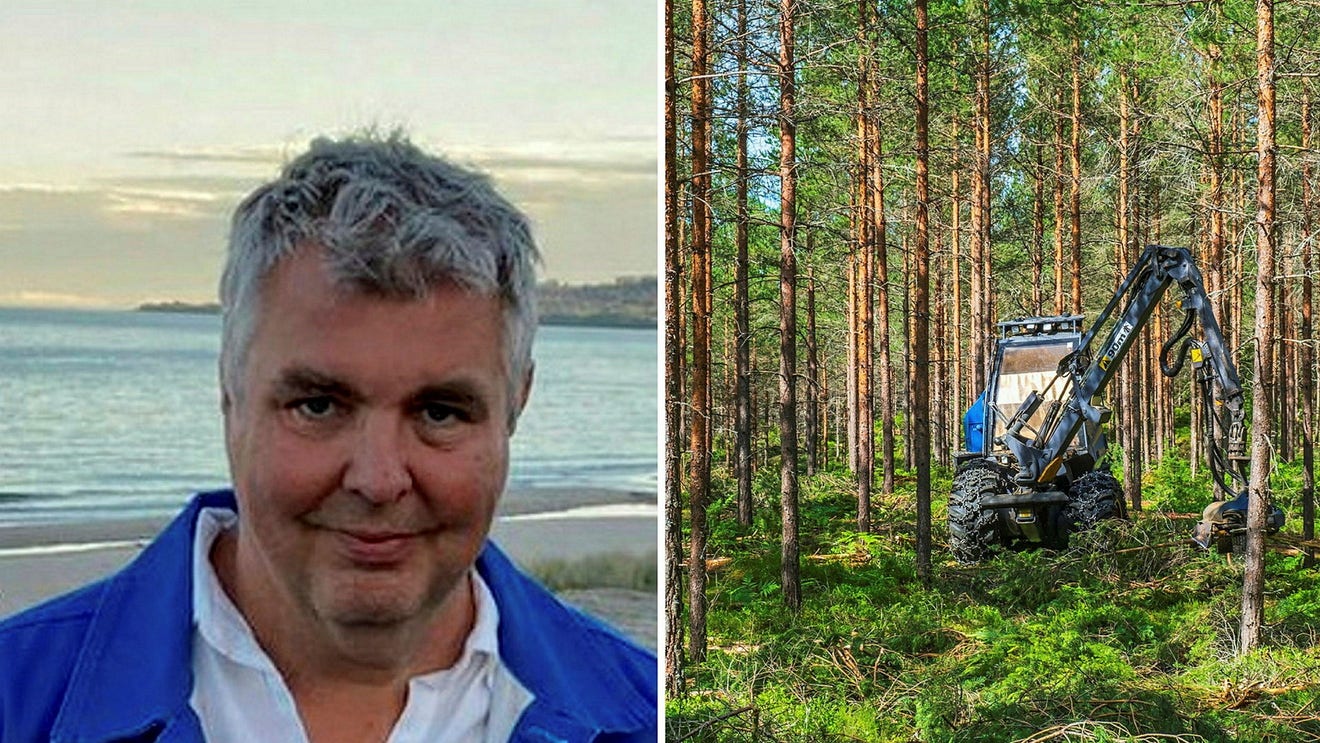 Peter Holmgren replicates the debate article from Kjell Prytz, Ida Sellstedt and David van der Spool.
Photo : Lars Johansson
---
Topics in the article:ForestryClimate policyEmissionsCarbon dioxideLand useLULUCF
Three enthusiastic forest debaters want to halve Swedish forestry and estimate that 2.4 billion tonnes of carbon dioxide will be stored in the forest for the next 80 years. Cultivated forest is instead said to stand and stomp without contributing to climate work. This would be an appropriate sacrifice of Sweden for a fair global climate change, say Kjell Prytz, Ida Sellstedt and David van der Spoel in their debate article. According to the authors, a half-closed forest industry would not release this amount of biogenic carbon dioxide, which is instead assumed to remain in the forest. No mention is made of the effects on society in general of such a measure.
The strangest thing about the draconian proposal is that it has a very low climate ambition. In the last 30 years alone, we have stored a net 1.2 billion tonnes in the forest at the same time as we have both felled for timber and increased nature conservation - for example, the amount of old trees is increasing rapidly. The debaters therefore want to reduce the rate of forest storage of coal by about 25 percent. That would be very unfortunate. In that case, we still have not taken in the lack of climate benefit from the forest's products, which are also essential for the conversion.
Used forests are standing and not stomping, quite the opposite. Most of the net storage in Swedish forests takes place in actively managed forest stands. Research based on objective measurement data clearly shows that actively managed boreal forest, such as in Sweden and Finland, stores significantly more carbon than less intensively managed – or unused – forests such as in Canada and Russia.
The reason is long-term investments in the management of the forest, which builds up growth and wood stores and protects the forest from damage from fires, insects and storms. The investments, in turn, depend on the fact that there is a long-term demand for timber, which places a value on the forest. For more than a hundred years, Swedish forest policy and forestry have worked according to that motto. A positive side effect is that the forest is thus a very potent net carbon sink.
The most serious thing about the post is when the authors diminish the task of reducing fossil emissions. About 80 percent of the world's climate impact comes from fossil emissions and process emissions, for example from cement production. 20 percent comes from land use, completely dominated by agriculture including deforestation in the tropics. It is thus the fossil emissions we must focus on and where the forest's renewable products play an important role. "So it's the fossil emissions we have to focus on, and there the forest's renewable products have an important role."
The latest IPCC report points to a number of areas where fossil emissions can be replaced by renewable forest products. Wood construction, packaging, textiles, chemicals and energy can replace fossil fuels. Cautiously, Swedish forest products keep away 50 million tonnes of fossil emissions each year, as much as Sweden's territorial emissions. Reducing this by half would be a big mistake - both for the national economy, consumers and for climate work.
The debaters are right that Sweden is at the forefront of reducing fossil emissions. This is largely due to the fact that we are good at using the biomass we get from the forest. Biofuels, 80% from our own forest, are Sweden's largest energy source, larger than nuclear power and larger than hydropower, wind power and solar energy combined. A not insignificant contribution to the energy mix in these times of unrest.
We have replaced large amounts of fossil energy, shifted away from plastic use and increasingly build in wood. For Sweden, this is a large part of the solution and a very large contribution to - and an example for - global climate work. We can demonstrate a good and long-term balance between the storage of carbon in well-managed forests on the one hand, and a large contribution to fossil reduction on the other.
It is not possible to separate the carbon storage in the forest from the climate benefit that the forest's products do in a number of other social sectors. It is also not possible to separate the climate benefit of the forestry industry from all other contributions to sustainable development and welfare that long-term forestry and climate-smart forest products give us."It would be unfortunate if politics were to take the direction of halving Swedish forestry."
It would be unfortunate if politics were to take the direction of halving Swedish forestry. Instead, we must make use of the forest's climate benefits for a more sustainable society. In addition to positive climate effects, it also creates jobs and welfare, not least in the Swedish countryside.
Peter Holmgren
Adviser on sustainability issues to the forest industry
FutureVistas AB
Former climate director at FAO and director general at the Center for International Forestry Research

Read the previous debate article from Kjell Prytz, Ida Sellstedt and David van der Spoel